Your
Quiz, Test, Homework, Class
DONE.
We will never spam you. We need your phone number to provide our services. By clicking on the Request Callback button, you agree to our
Terms of Use
,
Privacy
and
Cookie Policies
.
What Are The Benefits Of Using Our Services?
Should You Work For Nonprofit While Studying
Nonprofit organizations are charitable institutions that cater to the poor and the needy. They are  mostly in need of volunteers who are capable of giving their time and sharing their talents and expertise to help the charitable organization reach their goals. Volunteering for a nonprofit organization is common among college students and young adults.
There are many benefits to offering your time and talent to a nonprofit cause. It is a chance to test your leadership skills and how well you work with a team. However, working for a charity can also be time-consuming and demanding. This could certainly eat time away from your studies as well as your personal lives. Before you decide to volunteer for a charitable organization, here are some of the pros and cons that can help you decide.
The Pros and Cons of Working with a Nonprofit While in College
PRO: Offers plenty of experience
Working with a nonprofit organization somehow gives you an idea of what to expect working outside the real world. Volunteer work for charities is not limited to giving out donations and medical missions. Most of the time, volunteers are expected to do office work, plan events, and coordinate with people, venues, and suppliers. You are also exposed to different types of "coworkers" whom you'll be working with, or for, in the future. Being part of a nonprofit gives you first-hand experience with people, challenges, and work that you'll most likely face in the future.
CONS: No Instant Gratification
Nonprofit organizations are not like typical organizations that have a way to measure milestones and achievements. Although charities set certain targets and goals for each fiscal year, results may take months, or years, depending on how the organization is accepted by the general public. Instant gratification, something you can achieve through a promotion, or an incentive after a successful deal in a private company is very rare with charitable organizations.
PRO: Work Closely with Upper Management
The hierarchy in most nonprofit organizations usually has shorter chains of command. You may have the opportunity to talk with a supervisor, manager, director, or even with the founder of the organization during events, gatherings, and meetings with the group. Grab this opportunity to learn from them and be recognized for your work. If you do well with your work in a nonprofit, you may eventually get recommendations or referrals from the people you have worked within a charity. Take time to find a mentor in the organization to have someone to inspire you and help you with work and life decisions.
CONS: Progress is Slow
Nonprofit organizations are not fast-paced environments. There is less room to go around, and with very minimal people in the organization, you rarely get the opportunity to be promoted or to be assigned to a higher position. Work also tends to accumulate, with the pay remaining the same, or none at all. The demands of working in a charity may start to interfere with your studies as well as your personal life. Some organizations are also hesitant to promote college student workers because of the risks of eventually losing your services as soon as you earn your degree.
PRO: You'll Have an Outlet for Your Creativity
Creativity is much welcome in nonprofit groups compared to a private organization that usually abides by rules, SOPs, and limitations. Charitable institutions are very creative in devising strategies in helping the organization achieve its goals. You have better chances of testing your creative prowess in a nonprofit setting. The risks are lower, and little money is involved, and small mistakes do not usually have a high impact on the organizations.
CONS: Bureaucracy in Some Organizations
Some nonprofits can be stressful too. You might find yourself spending a lot of time doing grunt work, which can be discouraging if you want to explore and learn new things. Some charities are rule-following too, even with good intentions. Tasks can be tedious and may distract you from learning and enjoying the experience.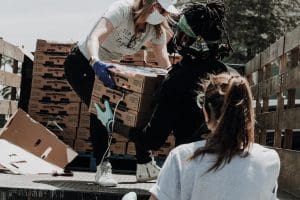 At the end of the day, working with a nonprofit offers you experience and a chance to experience life-changing moments in your life. You get to contribute to the community, and you'll get a better view of areas in life that usually goes unnoticed. The inspiration, challenges, and learnings you'll get from your job in a nonprofit depends on the organization itself, and your expectations as a student or a young adult, entering charity work.
We Accept:
Still Got Questions?
We got the Answers!